With a team of skilled medical professionals, the Cardiology Clinic at Fort York Medical provides cutting-edge heart and cardiovascular disease diagnoses, treatment, and preventative care.
Fort York Medical – Cardiology Clinic focuses on the treatment and prevention of cardiovascular conditions. Our Heart Health Program is designed to detect and prevent cardiac events at an early stage.
Owned and led by Professor Dr. Emmanuel Eroume A Egom, our Center of Excellence offers state-of-the-art treatment algorithms, conducts clinical studies, and serves as a research site to address your medical needs. Dr. Emmanuel Egom holds a PhD in Cardiovascular Medicine from the University of Manchester, as well as an MD with honors from the University of Parma Medical School in Italy. He recently relocated to Ontario from Nova Scotia, where he served as the Medical Director of the Cardiac Health Clinic and Cardiac Rehabilitation Program at Saint Martha's Hospital, along with being an Assistant Professor of Medicine at Dalhousie University. Dr. Emmanuel Egom is fluent in French and Italian, and he is passionate about sports, family, and providing care to people.
At our clinic, all patients in need of cardiac treatments receive the utmost attention and care. Please ask your doctor to refer you or print out our Cardiology Referral form and bring it to your referring physician.
We will directly book appointments with your patients, which can save time for referring physicians.
Strengthen your heart and prolong your life. Schedule your risk consultation today. 
Let's work together to provide the best service for you and your patients.
Our goal is to provide excellent patient care and shorter wait time 1-2 Weeks.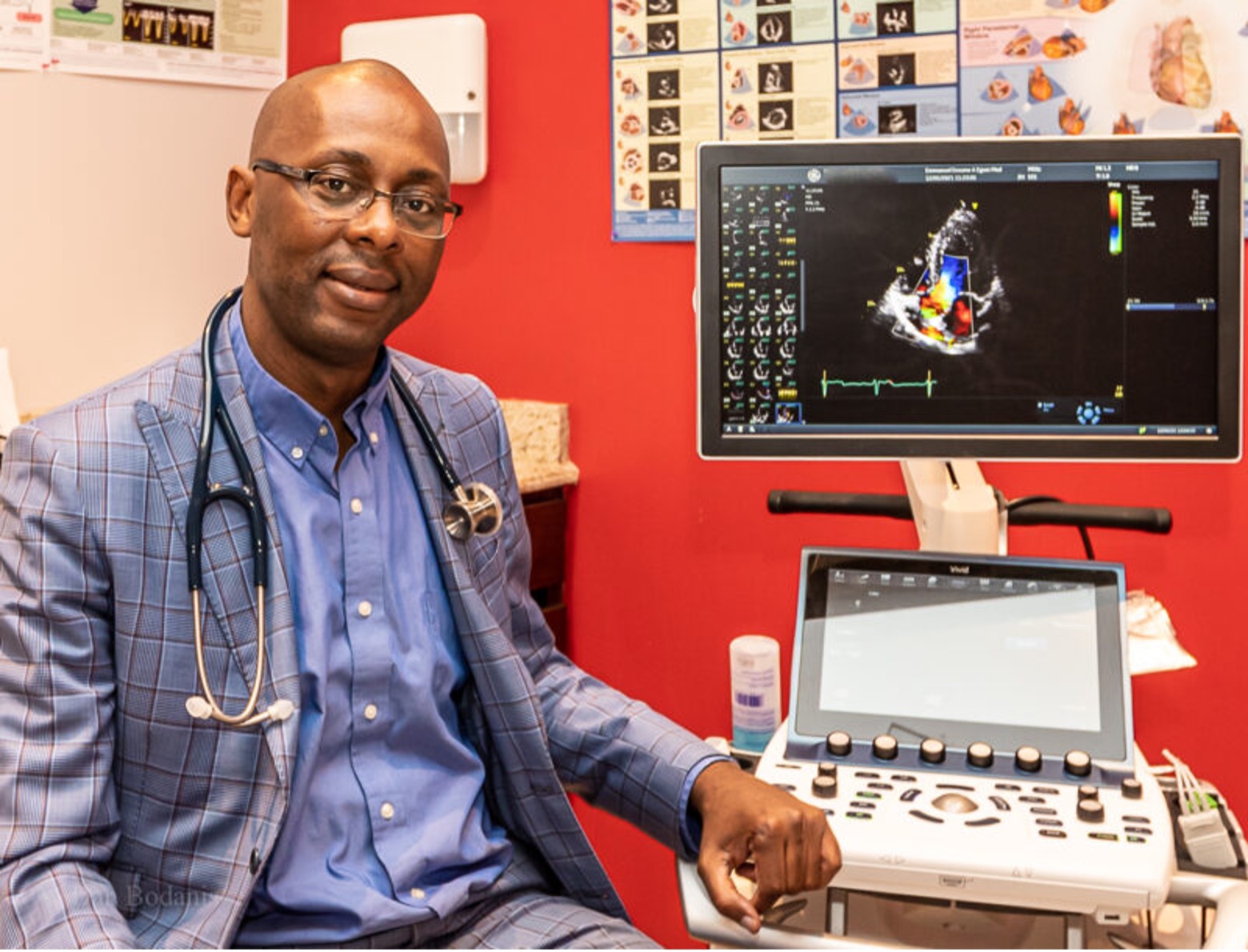 Urgent and non-urgent Cardiology, Diabetes, and Geriatric Cardiology consultations.

General Internal Medicine consultations.

Comprehensive Cardiovascular Diagnostic Testing and Screening.
Urgent cases are scheduled within the same week of receiving the referral.

We provide detailed, high-quality consultation reports that include patient diagnosis, prognosis, and therapeutic plans.

Our clinical services are offered in English, French, and Italian.

Eligible patients can enroll in leading clinical trials according to the protocol.
Our team of skilled and board-certified cardiologists, nurses, and support personnel is dedicated to providing our patients with the highest level of care and compassion. We offer a wide range of cardiology services, including diagnostic tests, various treatments, and proactive care.
At our clinic, we utilize state-of-the-art technology and equipment to ensure precise diagnoses and efficient treatments. We are committed to staying up to date with the latest advancements in cardiology, constantly striving to elevate the standard of care we provide.
Creating a relaxing and friendly environment for all our patients is our priority, as we understand that visiting a cardiology clinic can be a stressful experience. Our facility is designed to promote healing and relaxation, with a focus on delivering personalized care that meets the unique needs of each patient.
We take great pride in serving the Fort York neighborhood and the surrounding areas of Toronto. The Cardiology Clinic in Fort York is the premier destination for exceptional cardiology services in a welcoming environment.